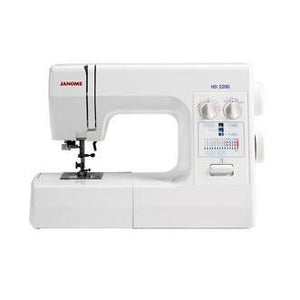 Janome
Janome HD2200 Sewing Machine
* Low Price Guarantee - you won't find it cheaper!
* Free Standard Delivery Over £149
* Sewing Machines Specialists Since 1922
* 0% Finance on orders from £50 or more
This reliable and sturdy Janome HD2200 sewing machine is one of the best and most preferable in the textile departments.

An ideal pick for schools and sewing classes, the machine is packed with a lot of useful features. Janome HD2200 features over 20 stitches and a fully automatic one-step buttonhole. The machine has built-in information that guides you with the best suitable presser foot and right stitch length and width. The Janome sewing machine also features a quick bobbin set up for easy and trouble-free inserting of the bobbin. All in all, the machine stitches perfectly, runs smoothly and has the power to sew multiple fabrics.
HD2200 Included Accessories

​820817015 Blind hem stitch foot

820801005 Buttonhole foot

820801005 Auto sliding buttonhole foot

832523007 Standard foot

829801002 Zipper foot

822804004 Satin stitch foot

822801001 Overedge foot

802422002 Quilting guide bar

625031005 Spool pin – spare

200331009 Straight stitch foot

822020307 Spool holder – large

822019004 Spool holder – small

802424004 Lint brush

820832005 Screwdriver

647803004 Screwdriver Small

560406001 Seam ripper

C-2023 Foot control

Hard Cover

Bobbins (4)

Needles

Instruction book
Buy the Janome HD2200 today and get free next day delivery!
}